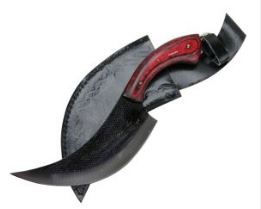 Defender-Xtreme 10" Skinner Red Wood Handle Stainless Steel Hunting Knives with Sheath
Description:
Hunting is one of the oldest and most primal hobbies we can still enjoy. Nothing compares to the struggle against nature, and the satisfaction of bringing down your prey. Almost Our Hunting Knives help you make the most of your next hunt. Every hunter's trusty companion, the hunting knife is useful for everything from preparing your meals to dressing your kill. Featuring a sharp and durable Steel blade, this knife will get the job done.
Features:
Tactical Steel Hunting Knife
Crafted Using High Quality Stainless Steel
10" Overall Length
6" Blade Length
4" Handle Length
Hand Made Knife
RED Wood Handle
Leather Sheath
Well Stitched Sheath
Ultra Sharp Blade
Flexible for a Range of Applications or Uses
Made for Optimal Result
Superior Craftsmanship
Multipurpose Use
PRICES & DEALS IN THE DOWNTOWN JAMESTOWN, NY STORE ARE DIFFERENT FROM THE SITE. GO TO THE ABOUT US PAGE FOR MORE INFORMATION.
---
We Also Recommend
---